#TervisTravels

Great American Road Trip
Pack up the family, load up the tumblers and join us as we visit our favorite All-American destination cities. We've got the inside scoop gathered from some of the nicest and most knowledgeable locals in every locale – our very own Tervis Store Associates – who are always happy to be your tour, or tumbler, guide. Don't forget to share your experience.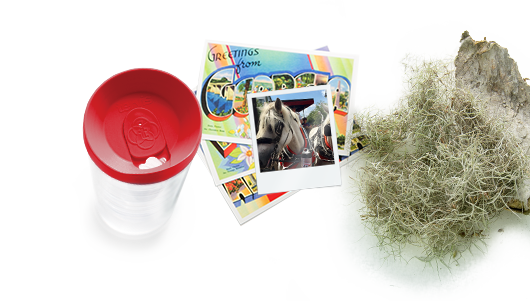 Welcome to Historic
Savannah, GA
To place the next pin in our summer travel map, we head North to one of the oldest and most haunted cities in the South, Savannah, GA. An innovator in city planning, this Georgia mecca is known for its 22 historic squares filled with cobblestone streets, beautiful buildings, iconic landmarks and spook-filled sights.
With our favorite American made Tervis tumbler in hand, we set out to partake in some good old American Southern hospitality, shrimp and grits and a carriage ride through the town where ghosts and legends are as commonplace as its Spanish-moss laden trees.
Local Color

Cool spots & colorful characters on and off the beaten path.

Forsyth Park —One of Savannah's most iconic pieces of architecture, Forsyth Park Fountain, occupies the North end of this famous park. Go for a stroll and take in any myriad of events, including sports, concerts, dining and the Saturday farmer's market.

Moon River Brewing Company —Named after local legend Johnny Mercer's song of the same name, this 5,400 square foot brewpub is serving up great food and their own micro brews. They do this in one of the town's oldest buildings and, we're detecting a theme here, it's haunted. Spirits with your spirits – how cool is that!

Savannah Bananas/Derby Devils —Giving local sports a good name (or names, in this case), The Bananas and Derby Devils are taking the local baseball and roller derby scene by storm and providing hours of fun for fans of all ages.

River Street —Paved with centuries-old cobblestone, this historic waterfront walkway offers a relaxing afternoon of sight-seeing, exercise, and shopping at some 70 shops, restaurants and art galleries. Throughout the year, River Street plays host to great events and happenings.

The Olde Pink House —Wine and dine in Savannah's only 18th Century mansion. Indulge in modern takes on classic Southern fare and spirited tales. If you're lucky, James Habersham Jr. will share his story, but be warned, it has an unhappy ending.

Chippewa Square —Don your best seersucker suit and grab a box of chocolate for the photo op you can only find in Savannah. This picturesque square is in the heart of the historic district and played a pivotal role in the blockbuster movie, Forrest Gump.

Tervis Store 111 W. Congress Street —Stop by, say "Hi", and pick up one-of-a-kind Savannah designs you won't find anywhere else. Enjoy special, limited-time savings on these exclusive designs through August.
Local Flavor
No one makes sweet tea like people in the south. Mix in the peaches that Georgia is famous for and you won't have to head far from home to have Savannah on your mind.
Ingredients
Peach Simple Syrup:
1 cup sugar
1 cup water
2-3 slices of Georgia Peaches
Tea:
2-3 Tea Bags (varies based on tea type/strength)
6 Cups of Water
Directions
For the Syrup:
Slightly muddle the peaches. In a saucepan, bring water, sugar and peaches to a boil. Continue to crush peach slices. Stir until sugar is dissolved. Remove from heat and let sit for 20-30 minutes. Optional: Strain syrup to remove fruit pieces.
For Tea:
Bring water to boil. Steep tea bags to desired strength. We like 5-7 minutes. Remove tea bags and cool. The add your syrup. Serve over ice. Garnish with remaining peach slices.