#TervisTravels

Great American Road Trip
Pack up the family, load up the tumblers and join us as we visit our favorite All-American destination cities. We've got the inside scoop gathered from some of the nicest and most knowledgeable locals in every locale – our very own Tervis Store Associates – who are always happy to be your tour, or tumbler, guide. Don't forget to share your experience.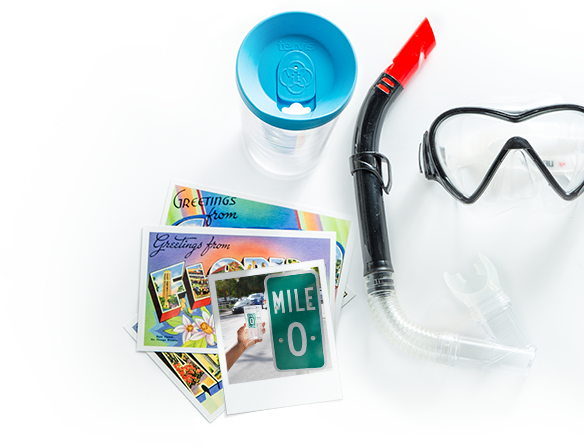 Welcome to Sunny
Key West, FL
Our vacation road trip series begins where the road ends, Mile Marker 0. Welcome to Key West. The Conch Republic is home to Florida's Southernmost point and our Southernmost Tervis store featuring unique regional-themed designs.
Come for the fun, stay for the free roaming roosters, six-toed cats, treasure hunters, street performers and haunted dolls with your trusty Tervis travel companion at your side.
Local Color

Cool spots & colorful characters on and off the beaten path.

Kermit's —The Original Key West Key Lime Shoppe is the go-to store for everything key lime, from tangy-sweet pies and bars, to delicious jellies, candies, cookies, sauces and more.

Fort East Martello Museum —Home to world-infamous, 111 year-old doll, Robert. Legend has it the doll is haunted and causes all kinds of misfortune. If the locals can't explain it, they "blame it on Robert."

Whitehead Street —Stroll down Whitehead Street to the home where Ernest Hemingway penned a few novels and had the first ever in-ground pool built in Key West. Descendants of his original six-toed cat still patrol the grounds.

Historic Seaport —Walk through history, shop and watch a beautiful sunset while enjoying dinner in Seaport. Shop at specialty stores with a local flair and grab a bite or sip a strong Cuban coffee from an eclectic mix of eateries.

Tervis Store, 431 Front Street —Stop in, see some nice folks and pick up some colorful Key West-inspired designs you won't find anywhere else. Enjoy special, limited-time savings on these exclusive designs through August.
Local Flavor
This twist on a legendary summertime drink is paradise in a tumbler. No matter where you enjoy it, you'll be transported straight to Key West. With its tropical flavors it's a new take on a Florida classic:
Ingredients
3 oz. Rum (clear)
1 oz. Key Lime Liqueur
4 oz. Pineapple Juice
4 oz. Pina Colada Mix
1 oz. of coconut cream
2 oz. Lime Juice
1 cup of ice
Lime for garnish
Whipped Cream for garnish
Graham Crackers for garnish
Directions
Combine rum, pineapple juice, pina colada mix and ice in a blender. Blend to desired consistency. Pour into a tumbler and add Key Lime Liquor. Top with lime wedge, whipped cream and graham cracker crumbs as desired.